KidsOutAndAbout Interviews Author Ridley Pearson!
by Chelle Dohrmann
Ridley Pearson, best-selling author of adult suspense novels and young adult adventure books--notably the Starcatchers and the Kingdom Keepers series--recently took some time with KidsOutAndAbout.com to discuss the release (April 1, 2014) of the final installment of his Kingdom Keepers series, Kingdom Keepers VII: The Insider.
---
KOAA: For those unfamiliar, what is the premise for the Kingdom Keepers series and who is it written for?
RP: The series arose out of my first visit to the Disney Parks with my family. I had an "aha" moment on our way out. Thousands of people were leaving the park, but not the characters--they were staying behind. It made me think about Toy Story, wondering what they were all doing when we were asleep, and I imagined a battle for control of the park each night between the good characters and the villains. Disney agreed to give me full access to their parks, and the series grew from there.
As for who it is written for, I always say it is appropriate for anyone 8-80! I have found that this series has as many adult readers as kids. The Disney Kingdom has the most loyal admirers and fans I have ever met; I did a book signing at a Disney park and out of 1000 people there, about 2/3 of them were adults! So, anyone that is a fan of the Disney parks and characters will enjoy the series, and enjoy getting insight into the parks after hours.
KOAA: I understand this is the final installment of the Kingdom Keepers series. Without giving too much away, what can you tell our readers about book 7?
RP: At the end of Book 6, the world of the Kingdom Keepers has been turned upside down; a group of Villain Overtakers has gained the upper hand, and it is a dark time for the Kingdom Keepers. Book 7 takes the characters to Disneyland in California; it further explores the relationships between the Kingdom Keepers and their mentor, Wayne. The series will be brought to a definite resolution.
KOAA: I understand there is an app associated with the series. Can you explain what it does, and how it was used in the writing of this book?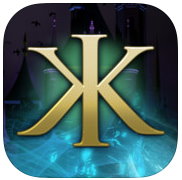 RP: About four books into the series, I realized I had a really dedicated readership. I felt badly that I would be the one to determine how the series would end, and I decided I wanted to find a way to somehow involve the readers in the end of the series. So I worked with Disney Hyperion and Coliloquy to create both a Kingdom Keepers Insider web site and a free app to guide me as I wrote the final book. Over the course of about 5 months, I proposed different scenarios weekly on the app, asking readers to vote on various things and I wrote a chapter a week based on their votes.  Fans were also asked to submit ideas in writing with a committee looking over each submission; the best were determined and I used their ideas in the writing of this book.  As a result, about 70 kids received writing credits for this book.
KOAA: What an incredible way to involve your readers! Did this process make the writing of the book easier or more difficult for you?
RP: It was far more difficult, but became a very surreal experience.  The app and web site worked to encourage better writing and reading among the kids.  And even though the book is now complete the Kingdom Keepers Insider will continue and offer a variety of fan fiction experiences.
KOAA: When you initially started the first book, did you outline the entire series from the beginning and anticipate there would be seven books, or did you take more of a book-to book approach?
RP: I initially thought there would be five books, each set in a Disney Park, a couple of which might be international.  But as the series progressed, it made more sense to keep the setting in the US.  And when Disney ultimately gave me access to their Cruise Line, I decided to add two more books to the series set on the boat (Books 5 & 6).  
KOAA: I understand you were able to go into the Disney parks alone at night to research these books. What is the favorite thing you did to research this series and do you have a favorite Disney Park?
RP: That's like asking me to pick my favorite between my kids! I can't pick just one! But I do love everything about Magic Kingdom, especially Splash Mountain; Animal Kingdom is terrific and as an adult, I really enjoy Epcot. I have to say the opportunity to go inside Haunted Mansion at night when it was closed was a favorite experience; and I went places on the Disney cruise ships that even executives don't get to go to. I've had the opportunity to go to the various Disney parks alone about 25 times after hours, with a Disney Imagineer (yes, that's a real position!) as my personal guide. I got to be inside the attractions while they are shut down, and I learned so much about the history of the parks as a result!  I have been very blessed with the experiences I've had with this series and throughout my career.

KOAA: How do you feel coming to the end of this series? Happy, sad or excited to embark on something new?
RP: It is bittersweet. This has been and continues to be a dream project as a writer that I never saw coming. Disney has been so supportive, and this process has been a thrill a minute.And while this series is coming to an end, I can tell you that there will be a follow-up, three-book series, directly tied to this one. Stay tuned for details!
KOAA: Fans will definitely be excited to hear that! Many of your books are part of a series; do you have a preference for writing series vs. stand-alone books?
RP: I don't necessarily have a preference. I love stand-alones because they are finite & specific; they have a concrete beginning/middle/end and about 300 pages later they are over. In a series, I get to explore depth of character that I can't do in a stand-alone. In the Kingdom Keepers series, for instance, I had about 1 million words to explore and develop these characters.
KOAA: Who are your favorite authors for kids today (besides yourself!)? Or the biggest influences?
RP: Without JK Rowling, Peter and the Starcatchers would never have come to be. Most publishers were convinced that young readers wouldn't read long books, and Harry Potter changed all of that. I also really love the work of Rick Riordan, Eion Colfer, Jonathan Stroud, Veronica Roth and Marie Lu among others.
KOAA: There are so many books for kids--how would you suggest parents sift through them all and locate great books for their kids to read? 
RP: The power of the internet is there for parents! There are many sites where you can find parental reviews of books – parents like us and their reviews are usually spot-on.  And there are groups you can find on the internet telling parents things like, whose books are appropriate for and even the "thrill level" of certain books.
KOAA: Any final thoughts you'd like to leave for our readers?
RP: While it is nice to read all the books of the series in order, any of them, even book 7, can be read as a stand-alone. Anyone who is a fan of Disney and any of the Disney parks will love these books!
---
Ridley Pearson is the best-selling author of nearly 50 books, including the Young Adult Kingdom Keepers series, among others. He currently lives in St. Louis, MO with his wife and two children. To learn more about Ridley Pearson, visit his web site at www.ridleypearson.com. 
Here's a neat trailer for Kingdom Keepers VII: The Insider, from Ridley himself, filmed right at Disneyland: 
---
© 2014, KidsOutAndAbout.com
Chelle Dohrmann is a mother of two and the St. Louis Editor of KidsOutAndAbout.com